Posted by Erin on 19 Jun 2012 | Tagged as: Expeditions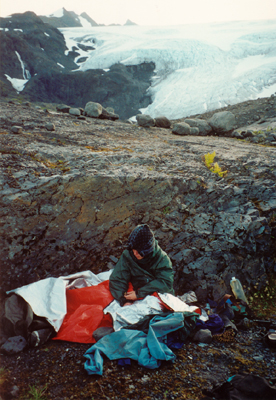 Erin in the Kenai Fjords, in 2000
When we were in college, Hig and I paddled through the remote Kenai Fjords in horribly leaky Sevylor packrafts, sleeping under the branches of alpine-stunted spruce in several layers of fleece clothes, without sleeping pads, bags, or any shelter beyond a too-small tarp, eating strange concoctions of peanut butter and gatorade. In Washington's Cascade mountains, we bushwhacked up steep and inadvisable routes beside rushing waterfalls making impromptu ropes out of thin string and getting mildly hypothermic in the rain. In other words, we made great strides towards the "adventure" part of our current work, without much progress on "wisdom", and nothing at all towards the "larger purpose".
Josh Sturtevant (left) and Brian Kennedy (right)
Josh and Brian are in another class altogether.
A pair of friends from Bates College in Maine, they recently left for Greenland, with a pair of Ground Truth Trekking packrafts, and an ambitious plan:

"In a country known for the largest ice sheet in the world, the Banana Coast, as it is jokingly referred to by locals, has been home to farmers and pastoralists for over a millennium, an international fishing industry for two and a half centuries, mining since the 1800s, and high end eco-tourism for the last few decades. Agricultural independence catalyzed by warming temperatures and the potential mining of the world's second largest rare earth mineral deposit encapsulate global questions of sustainability into one small place with rich Inuit, Norse, and Danish culture and history.


Starting in mid June we will walk and packraft from town to town in the Kujalleq municipality of southern Greenland. The glacier scarred landscape calls for both alpine treks and fjord crossings to reach the isolated communities in roadless Greenland. Along the way we will focus on the Kvanefjeld mining project and how it relates to a changing Greenland.  By talking with environmental advocacy groups, agricultural consultants, and local schools we hope to find insight into the future of a warming and resource based Arctic. "

They hit the ground on June 11th, and you can follow their updates on FB or Twitter under the #bananacoast tag. More detail when they return.
Ground Truth Trekking – the verb

When we started, Ground Truth Trekking was us. Hig and Erin, tramping around in the wilds, learning, studying, photographing, and writing about the things we found.
Then we began to get emails. All over the state, all over the country, and all over the world, people wanted to ask us questions, and share their own trips. Some of the exchanges were simple: we shared a tip on ocean packrafting, a description of the brush on a certain ocean fjord, our way of carrying children in the woods… Some were more than that.
It has been an unexpected gift to be able to work with other Ground Truth Trekkers – people who have come along with their own grand plans for adventures that serve to learn something important about the world. We've been able to lend out some gear, provide a few tips for things we've learned the hard way, and post things here on our site. But mostly, these journeys owe everything to the passion and preparation of the people involved.
Last we heard, Andrew was somewhere on Lake Clark on his journey to the Wild Revelations. (he's been updating via FB and Twitter also, tag #wildrev)
Meanwhile, Bjorn and Kim are busy turning their amazing Where the Heck is Donlin? journey into a movie.
And check out Mike Borden's glacier journey and bear encounter, and Bjorn and Kim's Prince William Sound trip.
2 Responses to "Unpeeling the Banana Coast"