Posted by Erin on 08 Sep 2011 | Tagged as: gear, trip preparation, wilderness kids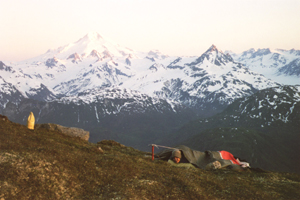 Alaska Peninsula – 2001
Northwest Arctic – 2010
In the beginning, we dived into lightweight backpacking with more guts than knowledge. We took off across the Alaska wilderness with a homemade fleece sleeping bag that was both too cold and too heavy, a too-small 'space blanket' tarp that leaked in spite of its weight, little Sevylor packrafts that popped at the slightest provocation… We were kind of lightweight, and kind of uncomfortable.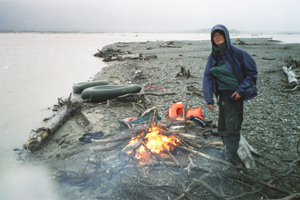 Alaska Peninsula – 2001
Unimak Island – 2008
In the decade since then, we've traded out everything in that original gear kit, creating a setup vastly more functional and comfortable, with hardly any change in weight. We carry sleeping pads. A real packraft. A pyramid shelter. A nice sleeping quilt. Lighter shoes. Better insulation. We swapped out our short-lived Gore-Tex for more durable but equally light and breathable Dermazax. And we're still often sad when it wears out too quickly.
Our new gear combined with new skills and knowledge that let us push limits we couldn't even imagine when we first started trekking.
And then there's the camera(s)
We first took pictures on an old point-and-shoot with a few rolls of film. Then a disposable. Then a digital point and shoot. On each expedition we took a few more pictures. On each expedition, they got a little better.
Camera gear – 2007
We began to share these expeditions with others – first by typing up my journal entries along with a few pictures and maps on our old AKTrekking website. A few people visited. Then a few more. We kept walking, looking, photographing, writing, and learning.
Soon, what had started as a hobby overtook our lives and work, becoming our mission – becoming Ground Truth Trekking.
By the time we began our year-long journey to the Aleutians, the point-and-shoot had been replaced by a digital SLR with two lenses. Each time we hit a town, I carved out a few hours of time between frantic packing and planning and eating to type out a blog post on a borrowed computer, trying to share what we saw and learned.
Then we had kids. Wearing a toddler for a 300-mile journey in the Northwest Arctic our speed dropped from nearly 20 miles a day to just 10. Now with Lituya's arrival bringing us up to 45 lbs of children, any notions of light, fast A to B travel disappeared, at least for awhile.
2010 – Erin stretched her coat around Katmai, her pregnant belly, and her front pouch.
Life on Ice is the adventure that sprung from these limitations. It's a journey to explore in detail, with base-camping and toddler-paced walking, keeping everything just light enough that we can uproot and move the camp across the glacier – around 65 miles through the course of the journey. But a new style of expedition brings about a whole new crop of needs we've never had to think about before. Without the ability to reach new towns every week or so, we'd need to set up remote food caches. We'd need a solar charger to recharge camera batteries. I didn't feel comfortable being out with small children without a form of communication, so we'd need some kind of satellite device in addition to the EPIRB. After the great reaction we've gotten to our first movie (due out on DVD soon! Really!), we figured a bit more video gear would be a good idea. Hig's gotten into timelapse photography… And the technology just kept adding up, in a great pile of incompatible proprietary batteries, chargers, memory cards, and cables.
Reaching Out
If we're bringing everything else, why not bring the internet? Heck, the 10 foot diameter tent with a woodstove in the middle is hardly different than a 24 foot diameter yurt with a woodstove in the middle. It'd be just like home! Except for the necessity to carry it around every week or two across remote wilderness terrain. It seemed we were planning the heaviest ultralight expedition ever, and the stress of figuring out all the technology was worrying me even more than finishing up the rain gear.
2011 – Camped out behind the yurt testing the Titanium Goat tent and stove
The goal was to share what we learned on Malaspina with the rest of you in real time. Which seemed like a good idea, until I found myself in a frantic flurry of Googling, holding a SPOT Connect and an iPad, failing to make them work at all, and learning that even if they did work Hig had mis-interpreted the advertising and they wouldn't be capable of what we wanted in the first place. Today the iPad and SPOT went back in the mail – at least we can return them for a full refund.
I was tempted to do the same with the rest of the tangle of batteries and cords – to ditch all the gadgets and technological crutches in one fell swoop. But I do actually love to take pictures. And I want to be able to call the pilot if we need him. Piece by piece, the rational arguments for including each piece of technology end up winning out over the emotional appeal of a sweeping gesture.
Now we have a new plan. We'll rent an Irridium 9555 sat phone. Through some laborious typing on the phone's keypad we can send up to 1000 character messages to an email address, to David Coil, who will kindly paste them into Twitter/Facebook (once a day or so?), keeping us in the modern age after all, for better or worse. When our visitors show up (we'll hopefully have 4), we will send them off with handwritten notes for this blog – old-school messages to transcribe for a digital world.
Many years of hiking journals on Rite-in-the-Rain paper
Old Tech
All this techno-planning is either a modern luxury, or a modern curse. But the tradition of expedition stories predates Facebook by a good number of centuries.
With two months worth of Rite-In-The-Rain paper, my expedition journal weighs over 12 ounces for this trip, with a couple mechanical pencils thrown in for good measure. As a writer, these pages are a comforting constant – perhaps the only thing we've carried, unchanged, for our entire decade worth of expeditions. I write by headlamp, while everyone else is asleep, often with cold cramped hands and an exhausted body. It's an nonnegotiable ritual. Every night, no matter what the day brings, I fill a few pages. Great stacks of these journals pile up in a box on my shelf, pulled out for material for my books and other writing. The paper may be higher tech than it used to be, but in spirit, it's not much different than the journals of explorers from centuries past. Whatever I can or can't Tweet from the middle of the wilderness, I'll bring these pages back with me.
By the Numbers
So for the record, here's the technology we are planning to bring. Of course, this could still change…
For a less organized but more complete view of our planning, feel free to check out our Life on Ice Google Spreadsheet.
4 Responses to "The Heaviest Ultralight Expedition Ever"